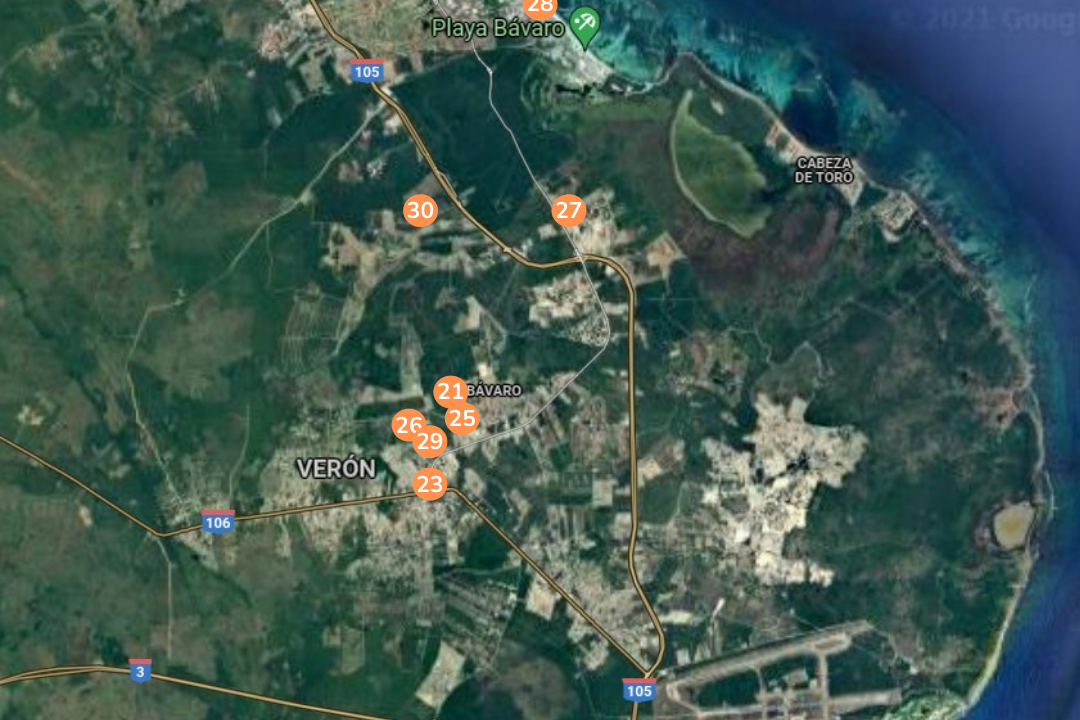 30 Places to Know in Punta Cana PART 3
As we mentioned in our previous articles, our series 30 Places to know in Punta Cana in 30 Days was so much appreciated that we decided to make a summary with all those places and their respective location on the map. We complete this series of articles today with the third part of our list, featuring the episodes from day 21 to day 30.
We plan to have another series in the future so please subscribe to our Youtube Channel, follow us on Facebook and Instagram to make sure you're not missing it out.
21. Pueblo Bavaro
Pueblo Bavaro is the first residential community in Bávaro Punta Cana and here live both locals and foreigners. Inside Pueblo Bávaro you'll find lots of residential developments some old, but also new and under construction.
Video: https://youtu.be/mILvQYN6dtc
Location: https://goo.gl/maps/MrzH5557A4g2KL1U6
22. Centro Medico Punta Cana
Opened in 2004 as a small hospital, Centro Medico Punta Cana is now one of the largest hospitals in Punta Cana. It has lots of specialties, 24 hours emergency room, its own lab and radiology services.
Video: https://youtu.be/R9duiPnohLg
Location: https://g.page/centromedicopuntacana?share
23. Cruce Veron
Cruce de Veron it's the main road junction of Veron, the small city where live the locals working in the Punta Cana area. Here you'll find a gas station, a pharmacy some shops and banks. Cruce de Veron usually serves as a landmark when asking for directions to find a local business in Veron.
Video: https://youtu.be/1Pao8zGmeVc
Location: https://goo.gl/maps/uXDCSgbGx9KZyHeG8
24. Playa Blanca
Located inside Punta Cana Resort & Club, Playa Blanca is the go to beach for the residents of Punta Cana Village. Being a very beautiful beach and having a great restaurant with the same name, it also attracts lots of visitors from other areas. There is a water sports center so you can also dive, snorkel, and do lots of water sports.
Video: https://youtu.be/Vh7Oeg5Ld9g
Location: https://goo.gl/maps/dvDnrSXmXxm4Lyuz9
25. Bavaro City Center
Located at the entrance to Pueblo Bavaro, Bavaro City Center is a large commercial center that includes shops, banks, a large supermarket named Ole, a gym, restaurants, health centers, entertainment and even a university (Universidad Central del Este). So you have all you can need in just one place.
Video: https://youtu.be/KLFGeXGRcXg
Location: https://goo.gl/maps/mPXip9MnvQx6d7oU9
26. Junta Central Electoral
Located near the Veron Punta Cana City Hall, this building is the place where you can register the birth of a new child and get the birth certificate, where you can say "I do" in front of the officer and get the marriage certificate. Also, very important to know, here you get the Dominican ID and renew it after obtaining the Dominican residency.
Video: https://youtu.be/xDfAW_luwjk
Location: https://goo.gl/maps/xbvSGhrYPXn6upUx9
27. Caribbean Cinema
Located in San Juan Shopping Center, Caribbean Cinema is at this point the only movie theatre in the whole Punta Cana area. It runs the hottest Hollywood releases but also Dominican Movies.
Video: https://youtu.be/ZX55XBlfTLA
Location: https://goo.gl/maps/o2CP9SJwkJn1HQBYA
28. Bibijagua
Bibijagua Beach is one of the several public beaches in Bavaro Punta Cana area. It's preferred among locals and vacational renters.
Video: https://youtu.be/_XtildzuwPk
Location: https://goo.gl/maps/cYaiBZM8JHiLqsbg6
29. City Hall of Veron Punta Cana (Ayuntamiento Veron Punta Cana)
Located in Veron, this is the city hall of the Punta Cana area. These are the main administrative buildings of Punta Cana and here you'll find the Municipal Palace, the Civil Status Office, a postal Office and a firefighters station.
Video: https://youtu.be/OU7ljelaK1M
Location: https://goo.gl/maps/dhmWWRmGiqGuhCek7
30. Vista Cana
Vista Cana is a gated development designed to be a smart city with residential communities, schools, shopping and business center, golf course, equestrian center, many parks, several lakes and an artificial beach.
There are many residential projects under construction in Vista Cana and more interesting ones to come so check out our website, follow us and subscribe to get notified one we publish new real estate videos.
Video: https://youtu.be/8HLC7Ze2oxw
Location: https://goo.gl/maps/69rbjyRnheL6z5eQA